In the past few years, Macro events have eclipsed trading based on fundamental or technical factors alone.
You can benefit from our proven ability to correctly interpret and capitalize on geo-political events, business cycles, monetary policy and financial crises.
Over 15 years of highly successful trading experience particularly during times of financial crises where macro factors and geo-politics are crucial to trading success.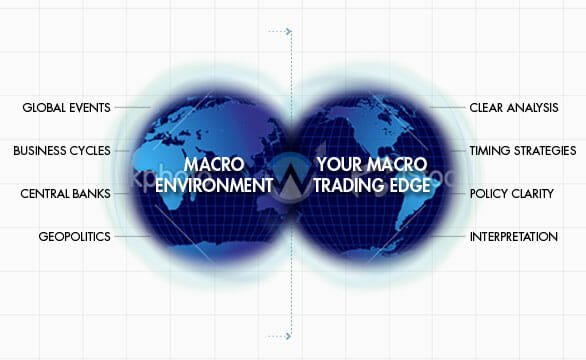 Losses and Gains are not Symmetrical!
If you loose 50% of the value of your portfolio during a crisis, you need to gain 100% to get back to where you were.
The
'New Normal'

is that crises are here to stay!

Have your assets have been affected by the Euro Crisis, Credit Crunch, Dot Com Bubble, Asian Financial Crisis or Mexican Peso Crisis?
At MacroTradingEdge®, crises are opportunities!
We predicted and capitalized on two major crises – 2007/2008 Credit Crunch and the 1997 Asian Financial Crisis.
Navigate the Global Financial Markets Safely and Capitalize on Financial Crises!
Geo-Political Analysis • Global Macro Themes • Actionable Trading Ideas • Education