Insights on Geopolitics | Monetary Policy | Business Cycles
Interpretation: it is our ability to see and interpret global financial events that sets us apart. Our competitive advantage is that we see events unfolding that others miss or see too late.
Trading Intuition: you gain from our knowledge and experience in trading or investing in the global financial markets. This is the most value-added part of all our services.
Insights & Alerts: analysis of major economic and political events with insights on how you can position your portfolio to avoid risks and profit from opportunities in the medium to long-term.
FREE Macro Trading e-book!
Get your free e-book on Macro Trading when you subscribe.  Improve your knowledge and gain insights for your investment portfolio/trading. For details please find the book description at the bottom of the page.
14 - Day Free Trial!
Try our macro newsletter for 14 days and if you are not completely satisfied, we offer you a no-risk 14 day money back guarantee.  You can use Paypal or credit card on our highly secure checkout page.  Thank you.
Crisis and Non-Crisis Trading Track Record
Exceptional returns were achieved during the 1997 Asian Financial Crisis and the 2007-2008 Credit Crunch.
2016
Non-Crisis Track Record Example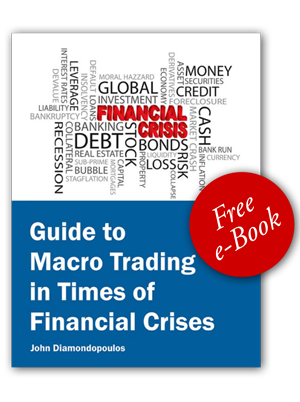 Guide to Macro Trading in Times of Financial Crises
© 2013 by John Diamondopoulos All rights reserved.
Before undertaking any investment decision, it is highly recommended that you obtain advice from a financial advisor. Macro Trading Edge Ltd. is not a registered investment adviser and we do not provide investment advice or recommendations. Macro Trading Edge Ltd. is not regulated by the Financial Conduct Authority.
You need to be aware that past performance is not a guide or guarantee of future performance.  Prices may go down or up and in some investment assets it is possible that you may loose more than your original investment.  It is your responsibility to see professional advice from a qualified financial advisor before making any investment decision.  The Responsibility of Your Investments are Yours and Yours Alone.